Learning from the living room: architecture, art, and social justice
Sandi Hilal
-
Decolonizing Architecture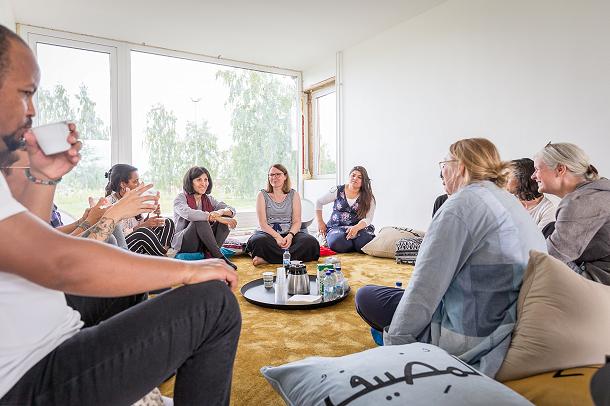 Living Room Project, Boden, Sweden , 2019 | Foto: Andreas Fernandez
BASEhabitat Fachimpuls #1

Mittwoch, 11.10.2023, 16:00 - 18:00
Online via Zoom

Sandi Hilal is an architect, artist and educator. She has developed a research and project-based artistic practice that is both theoretically ambitious and practically engaged in the struggle for justice and equality.
She is currently the Co-Director of DAAR, Decolonizing Architecture Art Research, an architectural and art collective that she co-founded in 2007 with Alessandro Petti and Eyal Weizman, in Beit Sahour, Palestine. – www.decolonizing.ps –alongside of her position as Lise Meitner Visiting Professor at Lund University Dept of Architecture and the Built Environment.
In 2012 with Alessandro Petti she founded Campus in Camps, an experimental educational program in the Dheisheh refugee camp in Bethlehem. www.campusincamps.ps Her latest publications, Refugee Heritage (Art and Theory, Stockholm 2021), a book-dossier that challenges dominant definitions of heritage and mainstream narratives, proposing exile instead as a radical perspective that can take us beyond the limitations of the nation-state. And Permanent Temporariness (Art and Theory, Stockholm 2019), is a book-catalog that accounts for 15 years of research and experimentation within and against the condition of Permanent Temporariness.
In 2023, Alessandro Petti e Sandi Hilal has been awarded the Golden Lion for Best Participation at the 18th International Architecture Exhibition – La Biennale di Venezia, for their long-standing commitment to deep political engagement with architectural and learning practices of decolonization in Palestine and Europe.